The 23rd CSCO Annual Meeting has been completed successfully.
PUBLISHED:
2021-01-05
6850 total views, 5 today
The 23rd CSCO Annual Meeting has been held from Sept. 19-26.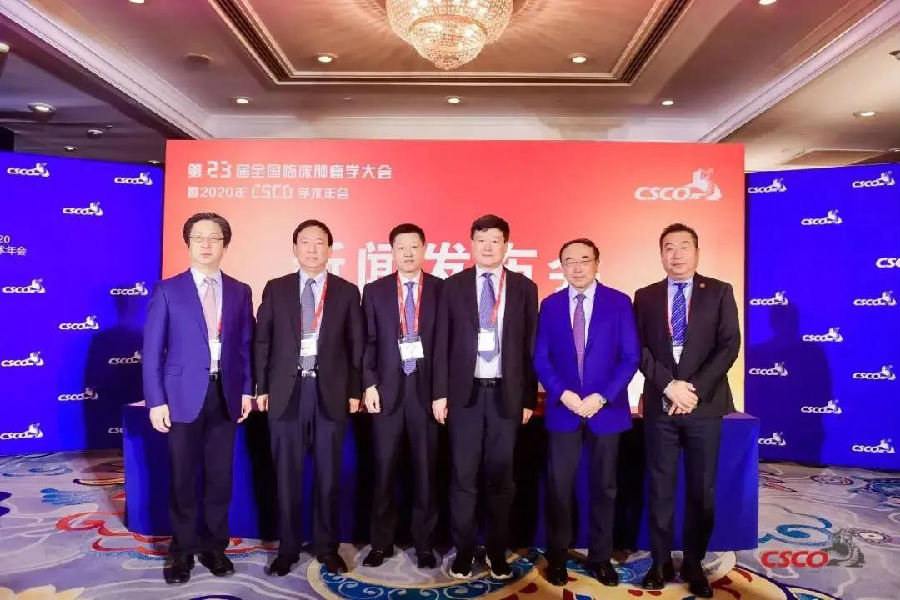 Due to the outbreak of COVID-19, CSCO had to go with as a with hybridformat of virtual and in-person conference. And the first in-person meeting started in Beijing on Sept. 20th, since the outbreak of COVID-19. Up to the morning of Sept. 19, the registration has been around 10,000. The total view of live broadcast has reached to 1.6 million and interactive likes up to 82,000. Over 450 experts and reporters from home and abroad, hundreds of group members as well as 40 media have come to the meeting and witness this academic events.
At the same time, the press conference was hosted by Dr. Zefei JIANG, Vice President and Secretary-General of CSCO. Dr. Jin LI, President of Xisike Foundation, Dr. Jun MA, Chief Supervisor of CSCO, Academician Jinming YU, Vice President of CSCO, Dr. Shukui QIN, Vice President of CSCO, Dr. Jun GUO, Vice President of CSCO had been presented at the press conference.
All the questions were replied from the aspects of the highlights of the meeting and CSCO activities during the COVID-19. Over 20 mainstream media and Professional journalists had attended the press conference.
Under the influence of COVID-19, our meeting took the hybrid format ofvirtual and in-person conference. Meanwhile, five main meetings were set up in Beijing, Shanghai, Ha'erbin, Wuhan and Guangzhou to have academic presentationand exchange which provided a wider platform for more oncologists. Moreover, CSCO first extended the meeting up to 8 days, which was the longest meeting weever had.

In recent years, CSCO would hold a clinical research on original new drug session which not only provides the most updated information about drug to all the peers, but to pave the way to the development of the clinical oncology in China.
Gene detection has been a heated topic in the field of clinical oncology in recent years. So this time, CSCO set up a session of the frontier and precision interpretation of tumor molecular markers. And in another session of the Sharing of Clinical Significance of Multiple Gene Detection in Common Tumor, the experts would take the successful cases as teaching materials to bring inspiration for clinical doctors in their future works.
There is another main theme is "to win together" in the annual meeting,which showed that CSCO has been proposing "Multi-disciplinary Treatment" these years.
CSCO has invited lots of top-ranking academic leader in clinical oncology. Many sessions have been put up many contents of Multi-disciplinary Treatment, in which the experts and scholars will discuss and exchange the academic viewpoint as well as research strategies together, therefore, to provide the new thoughts for the development of anti-cancer in China.