memo inOncology Special Issue ELCC 2019 report – now available!
PUBLISHED:
2019-11-13
22349 total views, 8 today
The 2019 ELCC congress report summarizes a selection of abstracts presented at ELCC 2019 in the areas of targeted therapy and immunotherapy for both non-small-cell and small-cell tumors of the lung. One particular highlight of this report is an exclusive interview with Dr. Newsom-Davis on the treatment algorithm for ALK-positive NSCLC and future developments for patients withALK/ROS1-positive tumors.

The memo inOncology Special Issue report is produced by Springer, as a supplement of memo (the Magazine of European Medical Oncology) and sponsored by Boehringer Ingelheim with anunrestricted educational grant. For more information on the memo inOncology Special Issue series, and for free access to all previous editions, visit the memo-inOncology website.
Access an articledirectly:
· Preface
· Currentperspectives in EGFR-targeted therapy
· Immunotherapy:analyses elucidating durvalumab & pembrolizumab activity
· Encouragingfindings in NTRK-, ROS1– and ALK-positive lungcancer
· Interview:Improving accuracy of lung cancer screening
· Extensive-diseasesmall-cell tumors: signals of activity
· Interview:"We need chemotherapy when rapid responses are required"
· Anti-angiogeniccombinations excel in later lines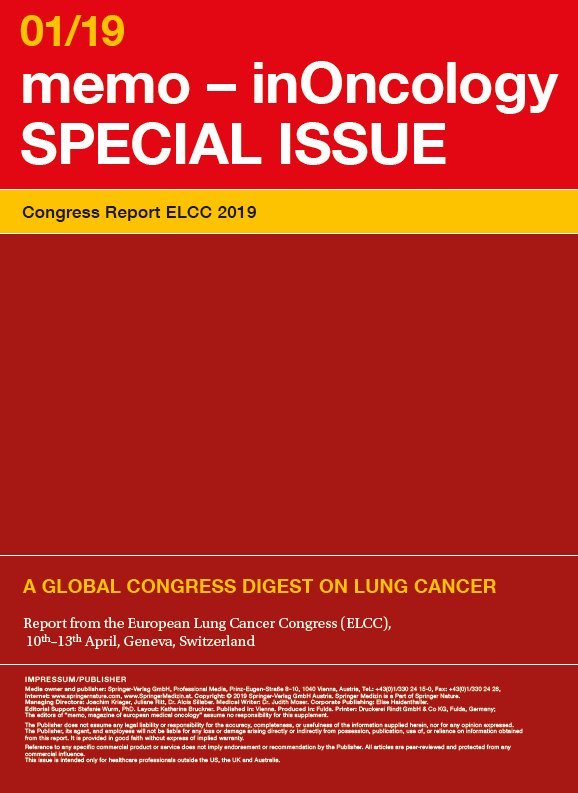 Downloadthe full report (English)