2017 CSCO annual meeting memo inOncology congress report!
PUBLISHED:
2018-03-16
25217 total views, 1 today
Springer is delighted to announce a new memo inOncology SPECIAL ISSUE congress report in collaboration with CSCO!
2017CSCO annual meeting memo inOncology congress report!
The 20th Chinese Society of Clinical Oncology (CSCO) annual meeting took place in Xiamen from September 26th to 30th, 2017. This congress report summarises the latest findings on lung cancer care that were presented at the congress, including the latest CSCO guidelines for NSCLC, how best to diagnose and treat EGFR-mutated NSCLC, how best to treat lung cancer patients with brain metastases, treatment options for lung squamous cell carcinoma, and the response to immunotherapy.
The memo inOncology Special Issue report is produced by Springer, as a supplement of memo (the Magazine of European Medical Oncology), and sponsored by Boehringer Ingelheim with an unrestricted educational grant. For more information on the memo inOncology Special Issue series, and for free access to all previous editions, visit the memo-inOncology website.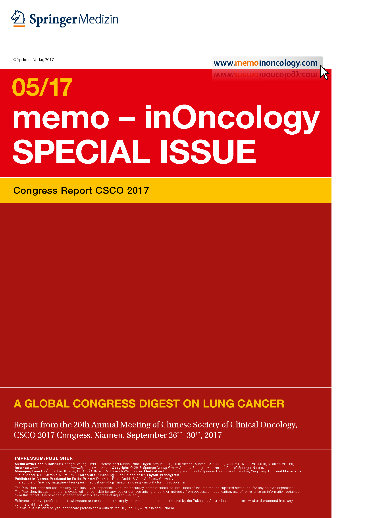 Read the congress report in English here!
Access the individualarticles directly:
· Guidelines for the treatment of NSCLC in China: progress and controversies
· Diagnosis of EGFR-mutated NSCLC: from guidelines to reality
· Different therapies for treatment ofsquamous cell carcinoma
· Optimal strategy for the treatment ofEGFR-mutant lung cancer
· New insights into the treatment ofALK-mutant-positive NSCLC patients
· Determination of clinical responses toimmunotherapy
· Combination of targeted therapy with radio­therapy for treatment of brain metastasis