The 20th Annual Meeting of Chinese Society of Clinical Oncology First Announcement
PUBLISHED:
2017-02-09
9998 total views, 2 today
General Information
Theme     Together we innovate on our inheritance
Date      Sep.26-30, 2017
Venue      Xiamen International Conference and Exhibition Center
Language    Chinese and English


Organizer

Chinese Society of Clinical Oncology (CSCO)
Beijing Xisike Clinical Oncology Research Foundation

Media Partners
<Journal of Clinical Oncology>, <Chinese Medical Tribune>, <MD WEEKLY>, WWW.DXY.CN, 24 Hours Medical Broadcasting, CCMTV, Medlive.cn and WWW. DCTT.NET

Abstract Submission Deadline June 30, 2017

Congress Secretariat
Chinese Society of Clinical Oncology (CSCO)
Conference Committee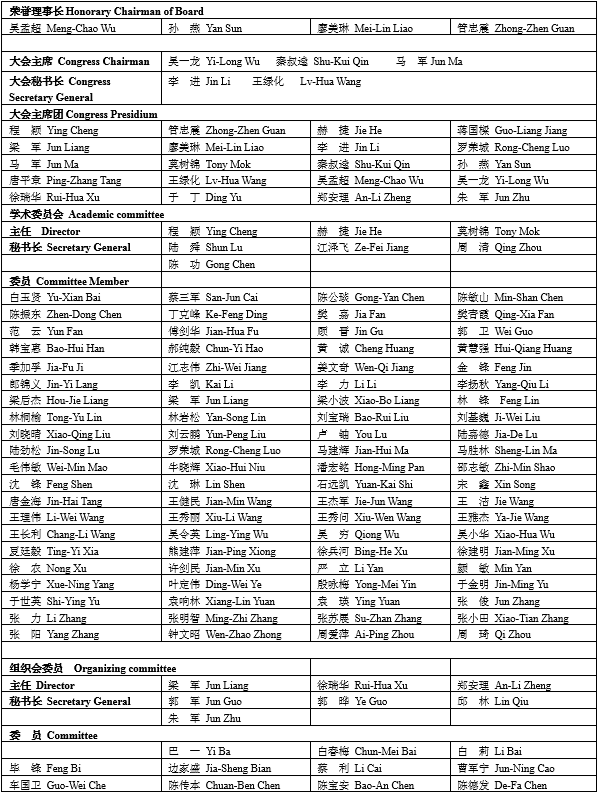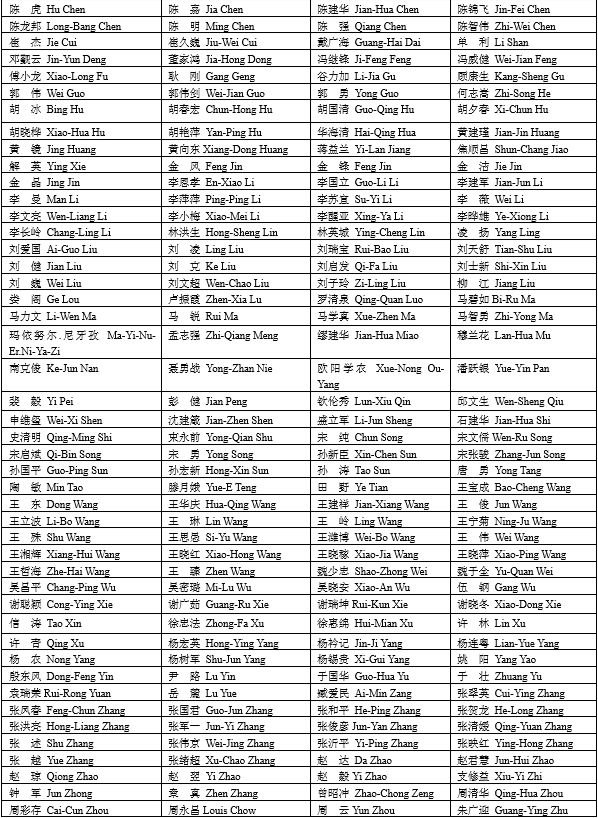 Brief Introduction
The theme of the 20th conference is "Together we innovateon our inheritance". Adhering to CSCO tenet, the conference provides great opportunities for worldwide communication and cooperation on clinical oncology. The goal is to advocate standardization of comprehensive treatment, encourage innovation in clinical research and promote the development of clinical oncology.
Welcome CSCO members and clinical oncologists involved in to share practical experienceand theoretical findings in research. Oral and poster presentations of originalresearches are arranged in the prime time of the meeting with comments fromexperts at home and abroad who will also give speeches in series seminars tobring new concept and advanced knowledge on clinical oncology. Meanwhile, there will be International Sessions co-organized with ASCO, ESMO, IASLC and other international societies which use English as official language. Leading professionals recommended by CSCO and the cooperated societies will come and give speeches to promote academic cooperation and make great contributions to the global clinical oncology.
Excellent academic reports and special manuscripts will be selected and published on <Chinese Clinical Oncology 2017 > by People's Medical Publishing House. Excellent abstracts will be compiled in "CSCO Annual Meeting Abstracts 2017". Furthermore,there will be Awards given through secret ballot by CSCO Academic Committee,which include "Excellent Abstracts of Chinese Clinical Oncology" and "CSCO Clinical Oncology Annual Achievement Awards" and "CSCO Clinical Research Annual Cooperation Awards" (the latter two are first awarded in 2017). Moreover,exhibitions of news drugs, instruments and publications will be held during themeeting. Look forward to your participation.
Call for Abstracts

1. Abstract Submission Key Dates

※BJT =BeijingTime
The earlier submission is recommended because the abstract submission page may be heavily accessed as the deadline approaches.
2. Submission Requirements
We accept abstracts submitted only through Online Submission system.
Please choose "Submit an Abstract" for your submission and do not submit the same abstract repeatedly. The submission of reviews will not be accepted.
(1) Contact Information
Provide your full name, degree, institution, address, telephone number, and email address. As the first author (presenting author), you will receive all future correspondence from CSCO regarding the status of your abstract. The information provided upon submission must belong to the first author.
If you would like someone other than the first author to be contacted with any question by CSCO, please designate. All other correspondence will be with the first author.
(2)Language
It must be submitted in English.
(3)Title
It should be concise and precise.
(4)Author(s)
Please provide all the authors. If the abstract has more than one author, please add other authors' information accordingly.
(5)Institutes
If there is only one author or all the authors come from the same institute, please type the name of institute, city and county in "Institute 1"(For example:

Cancer Hospital, Fudan University, Shanghai, China). If the co-authors' affiliation is different from the first author's, please fill the institutes in different "institute box" accordingly.
(For example:

Saitama Medical University, Saitama, Japan
       

Yonsei University, Seoul, Korea)
(6)Word count
Do not exceed 2,000 characters for the total of your abstract title, body and table. The character count does not include spaces or author names or institutions.
(7)Structure
If possible, please structure your abstract with:
Background:
Methods:
Results:
Conclusion:
(8)Topic Categories
Please select the most appropriate topic category for your abstract from the list below.
Abstract Category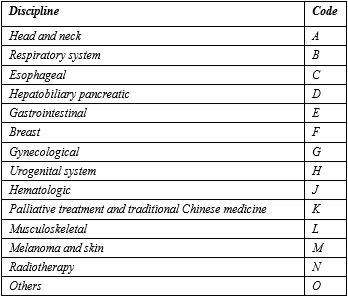 3. SubmissionGuidelines
(1)Disclosure
With the submission of an abstract, all the authors:
● The contents and conclusions of the abstract must not be presented at any major medical meeting or be published, in whole or in part, before the 20th Annual Meeting of Chinese Society of Clinical Oncology.
● Confirm that all authors agree to the content of the abstract and certify the authenticity of its data.
● Agree to present the abstract if it is selected for presentation at the conference.
● Agree to transfer the copyrights of the abstract to CSCO.
(2)Abstracts Selection Process
Reviewed by the Academic Committee of the conference, accepted abstracts will be compiled in "CSCO Annual Meeting Abstracts 2017". (It will not influence the publication of the abstract in other magazine orjournals)
In addition, if the abstract you submitted is selected to make an Oral Presentation or Poster Presentation at the conference, we will inform you before August 15, 2017.
(3)Presentation Style
Your abstract will be selected for International Session. Please select your preference for presentation, either "Poster Only" or "Poster or Oral ".
Oral Presentation (moredetails please see the confirmation letter we send you)
* Please prepare the presentation in PowerPoint, store in a memory disk and e-mail it to csco2017@csco.org.cn
* Use high-contrast lettering and high-contrast colors for best definition of the text, and max 10 lines or 15-20 words each page of the slides.
* If you have any changes about your PPT file , please offer it to our staff
* Technician in auditorium will be available to assist in start of oral presentation or if problems occur.
* Please note to wait in the Conference Room at least 30 minutes before your presentation.
***Note: if you are unable to meet the schedule, please inform the secretariat prior to the conference.
Poster Presentation
* The poster should be written in English, including all material necessary to support your presentation such as tables,drawings, charts and pictures and so on.
* Poster size must be 2400px in width and notexceed 3000px in height.
* The poster board will be prepared for presenter and marked with sequence number. Authors will be notified the board number and presentation date by email before August 15, 2017.
* Double-sided adhesive tape should be prepared by authors for sticking the poster.
4. Confirmation / Modification / Deletionof submitted abstract & Additional submission
You can confirm/modify/delete/add abstracts during the abstract submission period.
5. Inquiry (Technicalproblems / questions)
[Congress Secretariat]
ChineseSociety of Clinical Oncology (CSCO)
E-mail:csco2017@csco.org.cn
Fax:86(10)67726421
Add.:Rm. 20-C, Shun Mai Jin Zuan Building,
Jia 52Southeast Third Ring Road,
Beijing100022, PR China